Trike Design Kits
Kits start at £3,600 + VAT (£4,320).
Fully independent suspension trike rear-end kit
The kit shown is our Fully Independent Suspension Axle Kit with adjustable pre-load and damping, new discs, master cylinder and callipers. A small amount of fabrication to join the axle to your bike, pick a set of wheels, powder coat, paint, wire and you're away! Please state model of bike you are converting as parts may vary. You will need a working knowledge of fabrication/welding etc or some very nice friends to complete your build, but we offer all the help along the way and can also part build onto three wheels for you – ring for a price
We  use high quality components for specialist builds.
'Easy steer' Raked yokes.
This is an option that many of our customers find invaluable.
They can be made available for both Harley's, Jap and European, either by a purchased item or made from billet alloy on special order. 
Why Raked yoke???
As a result of a bike being converted to a trike it can result in a higher steering effort, this is down to Trail.  Trail is the factor of the bikes steering and geometry which generates a self centring force for stability. 
In order to steer, the rider uses the leverage available from the handlebars to overcome the self centring force generated by the trial leverage.
Raked yokes simply diminish the long trail measurements by moving the tyre contact patch forward, but closer to the steering centre line. The resulting trail reduction has a dramatic effect on the effort required to steer the trike. This can be as much as half the effort as it would without, thus making cornering a joy.
Why not ask a member of staff for or more information. 
Examples: Can be available in black, alloy or chrome depending on make model and availability.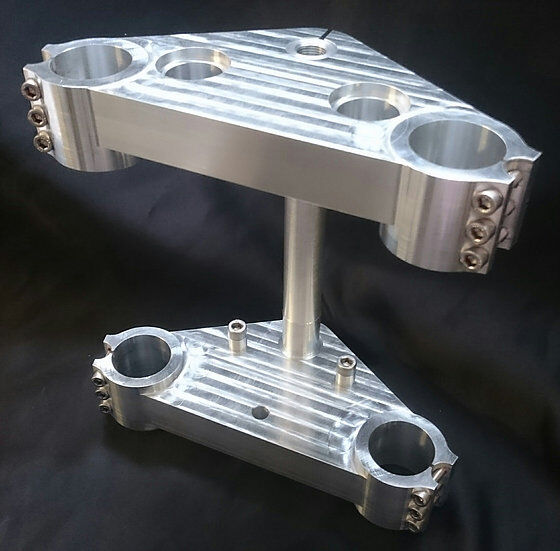 Number plate brackets, available
with and without light
 Powder coated or plain steel
(please not that light in picture is for show and may not be the one used)
Small Fibreglass Front Fender
Lower Engine Cowl – Chin or Belly Pan
Fender Kit – mudguards, 3 different sizes